Don't you have any wind where you live?
I'm not located in a windy spot.....my house is located in a low lying area surrounded by houses and a fair number of trees (and a 1.83m tall wooden fence).
The tall blooms still tilt and fall over. I already staked several of the Y. constricta x filamentosa blooms since some approach 2.7-3.0m.
Here's the stakes....look close.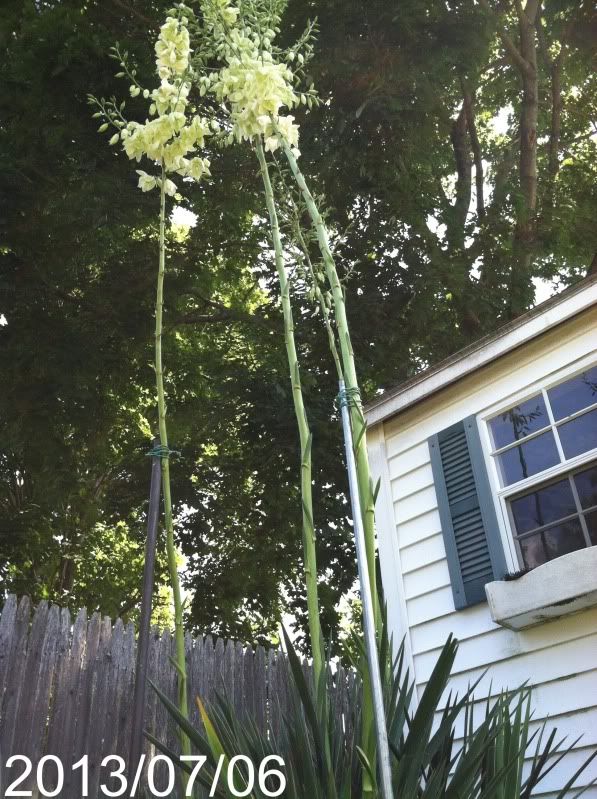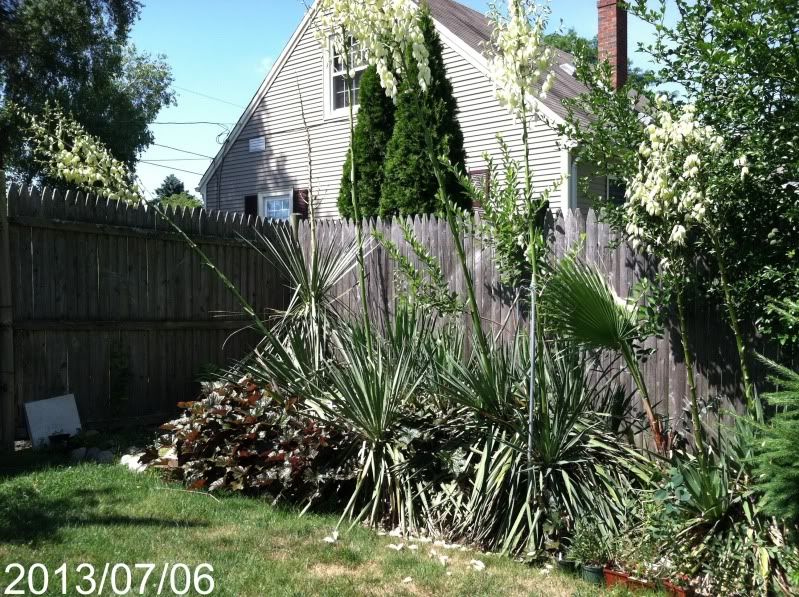 I have a suggestion, which you probably already made have your self, but maybe you should try to make the cross:
Yucca cernua tall bloom forming x (flaccida x 'reverchonii-thompsoniana').
I will try the cross you recommend. I also have some stored pollen of Y. arkansana 'Moud City, MO' and Y. glauca v stricta 'Jetmore, KS'. I will attempt to cross this pollen with cernua as well.

The hybrid plants of such cross might give plants quite similar to Yucca cernua, but with a better tolerance for moisture.
Moisture does not appear to be an issue with Y. cernua in my climate.....we get a lot of precipitation and average about 10cm of precipitation every month of the year. Do you have moisture issues in Denmark? You have a very cool climate and cernua is native to a very hot (summer time) area. Y. cernua is likely not very happy in your area?
And of course cross the tall once with each other :-).
I have extra Y. constricta x filamentosa F2 seed, if you want some let me know.

Your specimen of my hybrid Yucca filamentosa x rostrata does indeed look very nice with the very visible spiral growing pattern and the cool "blue" color.
I must say that your hybrid of Y. filamentosa x rostrata is my FAVORITE. It looks good all year! Some Yuccas look good in late summer and look terrible in spring (such as big mama) since our snows really bend down all the leaves and Yuccas look like 'pancakes'.
in 2 weeks or so the Yucca blooming season starts here, so if you have any pollen left at that time, I could use some tall American hybrid genes :-)
I will collect some pollen Monday morning and mail it to you.
There will not be many blooming Yuccas here this year, the last 4 winters and last years very cold summer, has sat their mark on almost everything in the garden.

Please post photos of your blooming Yuccas!
Yucca reverchonii-thomsoniana (your plant has good pollen I know :-)).
yes the Y. reverchonii-thompsoniana always has good pollen for some reason. On the other hand I can't make any seed pods on the Y. reverchonii-thompsoniana........not even 1 seed pod yet?? It's bloomed many times for me.