The Yucca (aloifolia x elata) x baccata seedlings sound really interesting. Do they look like baccata or elata or aloifolia
!
The Yucca (constricta x filamentosa) x '('Bright Edge' x glauca) seedlings are growing very fast now that temperatures are increasing and we are getting more sun. Here's a photo of this hybrid taken today.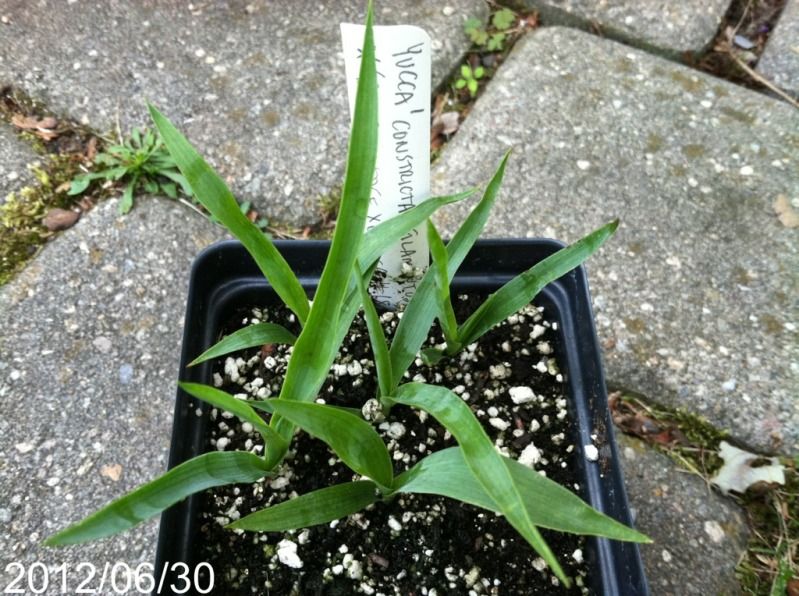 Too bad your so cloudy and cold. We too have been below normal for June but today and the next few days are suppose to be sunny & hot! Good for Yuccas.
If you need any more big mama seeds let me know since I have 1000's. I sent the remaining Yucca (constricta x filamentosa) x '('Bright Edge' x glauca) seeds to Horst....Hopefully he'll get a few to germinate too and spread them around to others.
I too notice Y. gloriosa and other 'east coast' type Yuccas take much longer to germinate than the west coast Yuccas. Generally east coast Yuccas take at least 3 weeks to 'show' even 4 to 5 weeks. Where west coast Yuccas take less than 2 weeks to 'show'.
I only got 2 seedlings of my Y. gloriosa x arkansana 'Moud City, MO' to germinate. Better than none!
Your #2001A Yucca "Karlsruhensis type 2" x elata is a BEAUTY! What else is blooming in your garden?
I just mailed some pollen to Horst......do you want some pollen too? In a few more days the 'TALL' Y. constricta x filamentosa will be blooming. I can try to harvest some pollen for you. (I'll need to get a table out to stand on!).